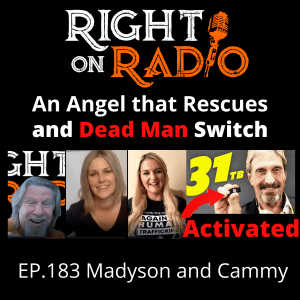 Friday Jul 16, 2021
EP 183 Madyson and Cammy. Dead Man Switch Activated, Plus Trafficking Prevent, Rescue and overcome
Cammy joins to discus her work at www.globalep.org. She is sent from the Heavens, wait till you hear what she does! Additionally, Jeff and Madyson drop some news including a weekend of fun looking into the dead man switch from Mcafee. Dead Man switch activated.
Right on U Link: https://rightonu.podia.com
Creating Wealth Course SAVE 40% USE Coupon Code FREEDOM Limited Time
Link; Supporting Right on Radio https://patron.podbean.com/RightonRadio 
Digital Soldiers: Welcome to the SoS Army [Shepherds of Sheeple Army]
Web Site https://sosarmy.mailchimpsites.com/ 
Jessie's Patreon: https://t.co/6QbQiO7VyD?amp=1​
Subscribe:https://rightonradio.podbean.com/​ Follow: https://gab.com/
Right on Radio​ Telegram: https://t.me/right_on_radio
Live Right in the Real World!
We talk God and Politics,
Faith Based Broadcast
Top level Intel by hosts Jeff and Jessie
News, views, Opinions and Attitudes
We are Your News Now. Keep the Faith