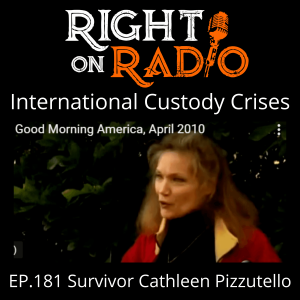 Thursday Jul 15, 2021
EP 181 Survivor Cathleen Pizzutello, this goes deep. The Judges hands were tied. Bloodline family?
Survivor Cathleen Pizzutello made international news with her case but her life story is much deeper. It is only now that these things are making sense. Was she scouted at an early age, were these men plants? What do bloodlines have to do with it? Cathleen was proficient in telling her story and Jessie and I sat back and listened for the most part in fascination.
Right on U Link: https://rightonu.podia.com
Creating Wealth Course SAVE 40% USE Coupon Code FREEDOM Limited Time
Link; Supporting Right on Radio https://patron.podbean.com/RightonRadio 
Digital Soldiers: Welcome to the SoS Army [Shepherds of Sheeple Army]
Web Site https://sosarmy.mailchimpsites.com/ 
Jessie's Patreon: https://t.co/6QbQiO7VyD?amp=1​
Subscribe:https://rightonradio.podbean.com/​ Follow: https://gab.com/
Right on Radio​ Telegram: https://t.me/right_on_radio
Live Right in the Real World!
We talk God and Politics,
Faith Based Broadcast
Top level Intel by hosts Jeff and Jessie
News, views, Opinions and Attitudes
We are Your News Now. Keep the Faith