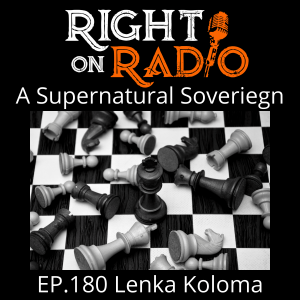 Wednesday Jul 14, 2021
EP 180 Lenka Koloma. MUST SEE interview! Fighting the Deep State and winning, Supernatural healing!
This incredible woman is about to school us all. An immigrant from a communist country is saving the United States one county at a time. She is genius in many areas including supernatural divine healing. This is a good one, do not miss!
Right on U Link: https://rightonu.podia.com
Creating Wealth Course SAVE 40% USE Coupon Code FREEDOM Limited Time
Link; Supporting Right on Radio https://patron.podbean.com/RightonRadio 
Digital Soldiers: Welcome to the SoS Army [Shepherds of Sheeple Army]
Web Site https://sosarmy.mailchimpsites.com/ 
Jessie's Patreon: https://t.co/6QbQiO7VyD?amp=1​
Subscribe:https://rightonradio.podbean.com/​ Follow: https://gab.com/
Right on Radio​ Telegram: https://t.me/right_on_radio
Live Right in the Real World!
We talk God and Politics,
Faith Based Broadcast
Top level Intel by hosts Jeff and Jessie
News, views, Opinions and Attitudes
We are Your News Now. Keep the Faith